Mars Hydro FC-E4800 4 X 4 Complete LED Grow Kit
Grow Tent - 4'x4'x6.5' Indoor Grow Tent
Grow Light - FC-E4800 LED Grow Light
Ventilation System - 6'' Inline Fan & 6'' Carbon Filter Combo

Mars Hydro 4x4 grow tent kit includes all you need for indoor grow tent system - LED grow lighting, ventilation, filtration, ducting, plant containers, and other useful tools. Buying one grow tent kit and your 4x4 indoor grow setup is perfectly ready.
FC-E4800 4'x4' Grow Tent Kits Include: FC-E4800 LED Grow Light (480W) / 4'x4'x6.5' Indoor Grow Tent / 6'' Inline Fan / 6'' Carbon Filter / 33' Duct Tube / Timer / 6 pcs of 5 gallon Grow Bags / 4'x4' Trellis Net / Timer / Hygrometer / 3 Duct Clapms
Quality LED Grow Lighting: FC-E4800 LED grow light is a bar style LED, with full spectrum and photon efficacy to 2.8μmol/j to maximize yields, produce uniform crops and reduce thermal waste.
Best Grow Tent For Indoor Plants: Premium 1680D canvas enclosed to prevent light leaking, reflective mylar in diamond patter to optimize light performance by light refractions, metal framework durable enough to hold 2X more weight than other standard grow tent kits.
Quiet Inline Fan And Carbon Filter: 6 inch inline fan with 10 fan speed and low noise of 32dBA outputs airflowfrom 10CFM to 402CFM, sufficient to cool and circulate the entire grow tent kits, paired with activated charcoal filter to eliminate odors and harmful airborne particles, to set up a reliable ventilation system for plant grow tents.
Useful Grow Tent Accessories: Include a hygrometer to monitor on the temperature and humidy of the grow system, ducting and duct clamps to put inline fan and filter together tightly, 5 gallon grow bags as plant containers to hold plants in a healthy environment, and a timer to automatically power off the grow light to meet the plant lighting schedule for a convenient complete grow tent kit.
High Quality Complete Indoor Grow Tent System: High quality LED grow light - full spectrum lighting and bar style for a scientific and uniform light spread. Premium grow tent - 1680D canvas and reflective diamond mylar for an enclosed grow space. Quiet inline fan and carbon filter for air filtration and circulating; Durable fabric grow bags to hold your plants in healthy environment; Useful grow tent accessories like hygrowmeter, timer, clamps that would help you grow easilier.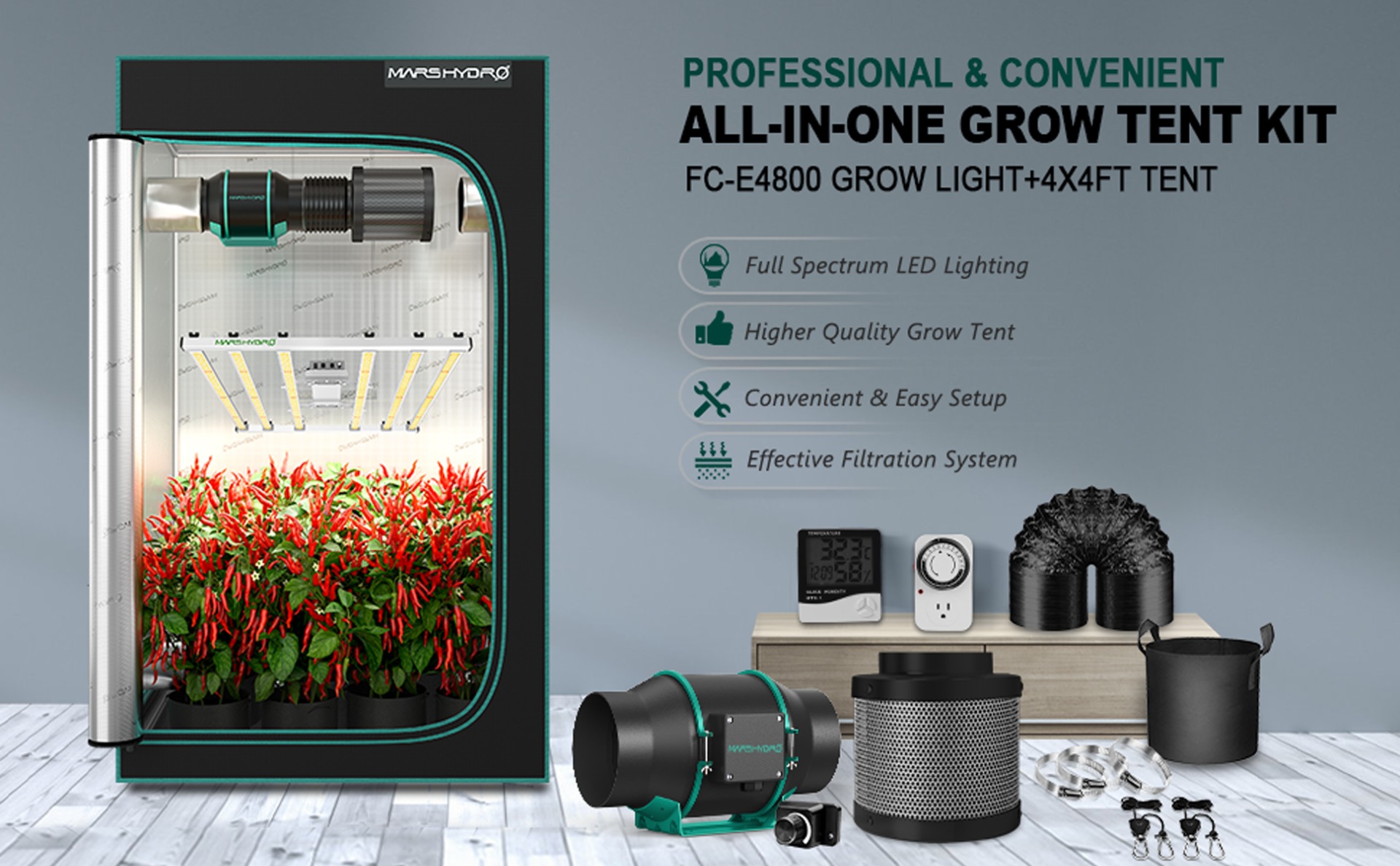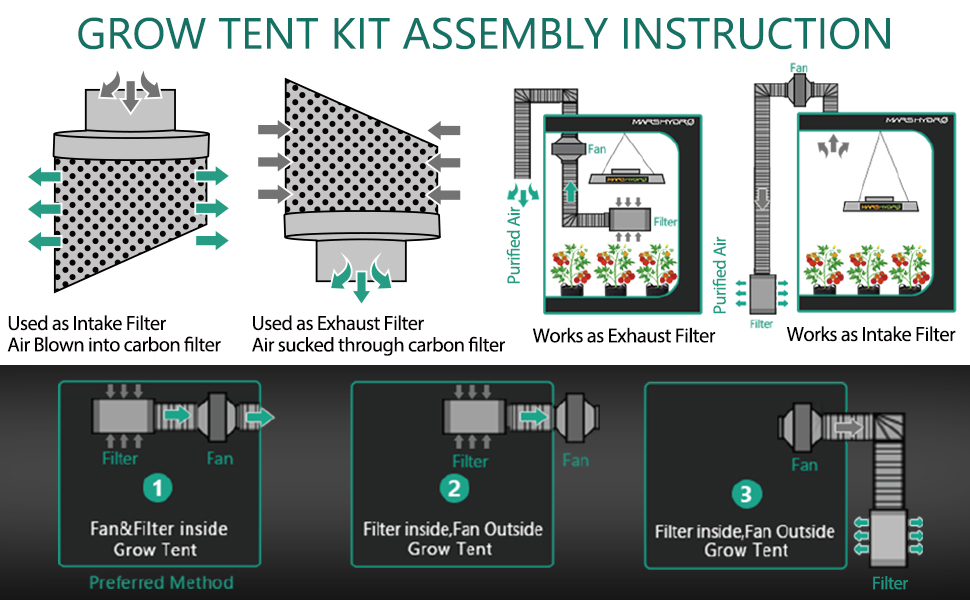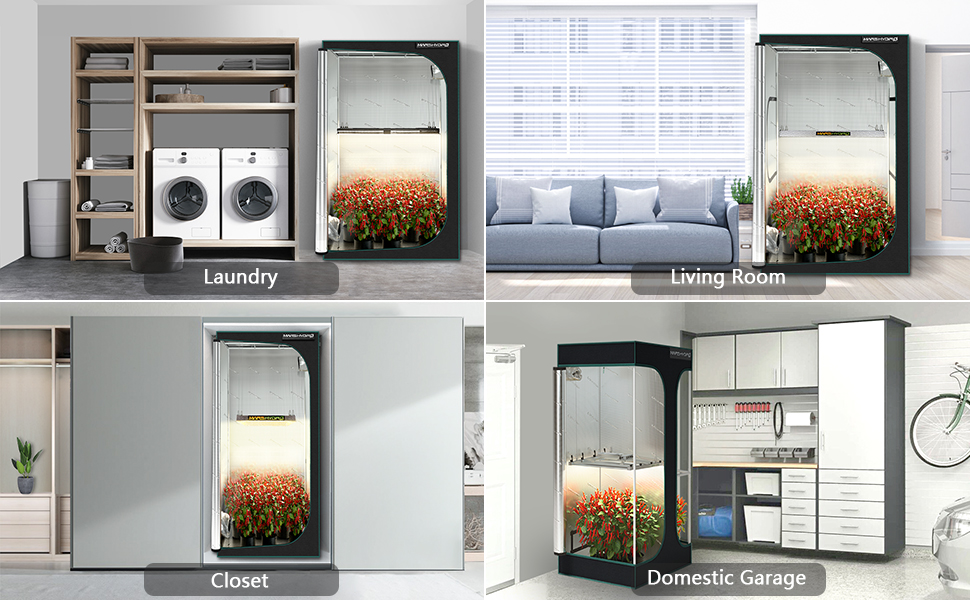 | | |
| --- | --- |
| WATTAGE | 480W±5%@100-277V |
| Chip Brand | BridgeLux |
| Spectrum | 380-410nm 660-665nm 730-740nm 2800-3000K 4800-5000K |
| LEDS QUANTITY | 2646 |
| PPE | 2.8μmol/j |
| PPF | 1331μmol/S |
| BTU | 1636.8 |
| Certificate | ETL,CE,UKCA,RoHS,IP65 |
| Max Yield | 2.5g/W |
| DRIVER | Mean Well |
| Dimensions(cm) | light: 864*852*79MM Tent: 120x120x200cm |
| Vent Size | 2x7.5cm, 4x15cm, 2x20cm |
| Mesh Window Size | 1x25*25cm |
| DOOR QUANTITY | 1 front door |
| SUPPORT CAPACITY | 70kg/154lb |
| FAN SIZE | 6 inches |
| CARBON FILTER SIZE | 6 inches |
| Airflow | 402CFM |
| Fan Controller | Speed Controller |
| DUCT TUBE SIZE/LENGTH | 6 inches/10m |
| HYGROMETER | Yes |
| Warranty | Light 5 years |
Free shipping on all orders over $175 in the continental US and internationally for select brands.
Estimated Arrival: Between Dec 6 and Dec 13.
Tracking info will be provided (via email) within 24 hours of shipment.
Easy returns for up to 90 days, depending on brand.
Our shipping and returns page has more details, including return info for individual brands.
You may be wondering why you should buy your grow lights from us, instead of other available authorized dealers. Read on for the answers to all your burning questions.
10 Reasons to Trust Us With Your Business
Customer Service. We are here to help and want the best for you. Use our live chat or email or call us during business hours. We are always here for you.
Full Warranties and Generous Return Policies. We only carry top American brands that back their products with full warranties and return policies of up to 90 days, depending on the brand (details at the bottom of this page).
Price Match. We want you to be absolutely secure that you're getting the best price with us, so we will not only match a lower price you find online before purchase, but will even refund you the difference up to a month after purchase (details here).
Discreet Insured Shipping. All orders ship via FedEx, UPS, DHL, USPS, or a reputable freight company and the shipment is always insured, so you do not have to worry about a lost or damaged package. You also don't need to worry about prying eyes: all orders ship discreetly.
Hassle-Free Returns. We always adhere to the manufacturers' return policies (details on each manufacturer at the bottom of this page).
Free Shipping on orders over $175 to the lower 48 states.
No Sales Tax Anywhere, except NJ, and CA for some brands.
Authorized Dealers. We only carry American brands whose lights and other products have been extensively tested by real growers and processors. 100% US warranty on all products.
Buyer's Guides. We have created buyer's guides for both HID and LED grow lights, as well as rosin presses and bud trimming machines, to help you find the perfect light or press for your needs. We also have reviews and comparisons of the top 1000w LED grow lights and the top 600w LEDs.
Safe & Secure Systems in place for every payment transaction.